The SWIGG study will test water from hundreds of wells in Grant, Iowa, and Lafayette Counties to determine whether drinking water contamination issues exist, and if so, what is causing the contamination.
Did you know?!?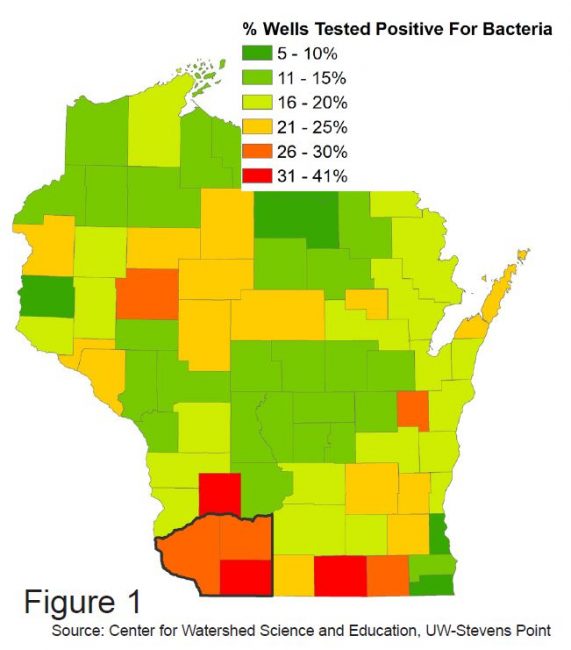 44% of residents in Grant, Iowa, and Lafayette Counties obtain their drinking water from private wells. Unfortunately, little is known about the quality of the water citizens are drinking, though some evidence indicates that the water coming from these wells can be contaminated with pollution like bacteria and nitrates.
Why do the study?
Like other parts of the state that have experienced contaminated drinking water, Southwest Wisconsin has fractured bedrock that can allow pollutants from the surface to easily make their way into groundwater.
These pollutants can cause illness in people and animals that drink the water.
Wells sampled in Grant, Iowa, and Lafayette Counties test positive for coliform bacteria (Figure 1), an indicator of potential contamination, at a higher rate than many other counties in Wisconsin. In Grant and Lafayette Counties, though, many wells have not been sampled (Figure 2).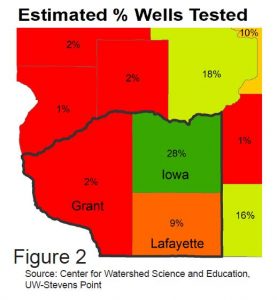 The goal of the SWIGG study is to determine the quality of the water in our wells. If contamination exists, the study will give counties and the state better information about how to protect public health and make sure every resident has water that is safe to drink.
"This study is long overdue for our three counties," said Iowa County Conservationist Katie Abbott. "Over 44 percent of residents get their drinking water from private wells, but aside from some evidence of well water pollution issues, we don't know a lot about the water quality. This study will answer some big questions."
Who is doing the study?
The county land conservation departments from Grant, Iowa, and Lafayette Counties are funding the study and will be collaborating with UW Extension and researchers from the Wisconsin Geological and Natural History Survey, the US Geological Survey, and the US Department of Agriculture.
"This study is possible because each county sees the need to understand what's in our residents' water," Lynda Schweikert, Administrator of the Grant County Conservation, Sanitation, and Zoning Department. "Getting this study off the ground shows the commitment from our counties to understand the issue specific to our area and be proactive and thoughtful if solutions are needed."
How is the study being done?
The first phase of the study will involve a broad sample of hundreds of wells in Grant, Iowa, and Lafayette Counties for nitrates and bacteria to assess whether well water contamination exists and how widespread it is.
Next, researchers will look at the geology around sampled wells and how wells are constructed to determine what might be influencing how pollutants get in well water. For wells that are contaminated, researchers will take additional samples to determine the source of that contamination.
"We are pleased to get this study underway," said Terry Loeffelholz, Land Conservation/Planning and Zoning Department Manager for Lafayette County. "We're going into this project with open minds. We think it will help us make the right decisions in the future to make sure our residents have clean, safe well water."
Frequently Asked Questions
How do I participate?
Participation is voluntary. Randomly selected households will receive a letter by mail asking for their participation.
Will my well test information be shared?
No. All individual results will be kept confidential. Any information that is shared will be presented in a way that does not identify individual wells or their owners. Participants will be notified of their individual well test results.
If I already tested my well, should I participate?
Absolutely. This study will be a much more detailed look at potential groundwater contamination and its causes, and the researchers need samples and results specifically for this study.
Is there an event where I can learn more?
For residents interested in learning more about this important work, public events will be held in some locations. At those events, researchers and county officials will be on hand to discuss water quality issues Southwest Wisconsin faces and the study itself. Check back for dates when public sessions will be available.
SWIGG Related Resources
Update on the Southwest Wisconsin Groundwater and Geology Study – August 1, 2019
Press Release – July 29, 2019
Discussion of SWIGG Study Results – Darlington, WI – September 4, 2019
Press Release – June 5, 2019
SWIGG Fact Sheet / Handout
Press Release – 9/24/2018
Well Water Viewer
Private Wells Groundwater Quality
Other Resources and Information
Research on a Mysterious Cave Helps Lend Insight on Improving Water Quality
Bacterialogical Contamination of Private Wells
Improving your private well water quality
Water Quality in Iowa County (2 pages, 139 KB .pdf)
La calidad del agua para beber en el condado de Iowa (2 pages, 115 KB .pdf)
Central Wisconsin Groundwater Center
Groundwater in Iowa County — A Citizen's Guide (31 p., 2,177 KB .pdf)
Groundwater recharge
Groundwater susceptibility
Springs in Iowa County
Water-table elevation
Protecting Wisconsin's Groundwater Through Comprehensive Planning
Contact Information:
Grant County
Lynda Schweikert
lynda.schweikert@wi.nacdnet.net
608-723-6377, ext. 4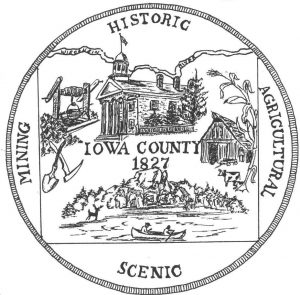 Iowa County
Katie Abbott
katherine.abbott@iowacounty.org
608-930-9893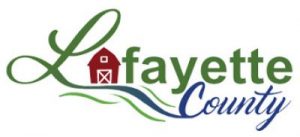 Lafayette County
Terry Loeffelholz
terry.loeffelholz@lafayettecountywi.org
608-776-3836