Brochure to referrals (GCTC) offers eligible youth an alternative to juvenile court where they receive sanctions from their peers. It provides positive peer pressure with community based consequences. Youth are offered the opportunity to take responsibility for their actions.When Juvenile offenders successfully complete their Teen Court sanctions, no citation(s) will be filed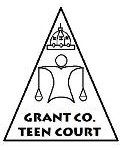 concerning the incident and no conviction will appear on their record.  This is a real second chance to prove that mistakes can be turned into positive choices.  At GCTC:
The juvenile becomes responsible for his/her actions.
The community is able to see teens being held accountable for their actions.
Volunteers are given a chance to make a difference in the lives of young people.
Youth learn about the justice system.
For more information contact: Deb at the Lancaster Police Department, 608-723-4188
Referral Agency: Please complete and send the form to Lancaster Police Department, Attn: Deb, 222 S. Madison Street, Lancaster, WI  53813.