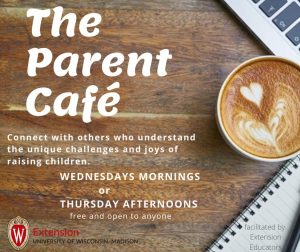 The Parent Cafe is a free, weekly opportunity for parents and caregivers in Southern Wisconsin to talk with each other. As we connect, we find resources and gain skills that can make our families happier.
Each Parent Cafe is hosted by an Extension Educator from Southern Wisconsin and lasts one hour.  Participants can join via phone or video-chat, with connection information provided after you register.
To accommodate different schedules, sessions are offered on Wednesday mornings from 9-10am or Thursday afternoons from 1-2pm.
Important! Please register prior to The Parent Cafe to receive connection link & phone number: https://go.wisc.edu/r15h82
For more information, email: hdr-swwi-educators@office365.wisc.edu
Spring 2020 Schedule
Dates
Facilitator
Topic

Wed, May 13 @ 9am

Thurs, May 14 @ 1pm

Chelsea Wunnicke, Richland
Making & Evaluating Choices

Wed, May 20 @ 9am

Thurs, May 21 @ 1pm

Amanda Coorough, Sauk
Solving Problems with Others

Wed, May 27 @ 9am

Thurs, May 28 @ 1pm

Amanda Griswold, Crawford
Mindfulness

Wed, June 3 @ 9am

Thurs, June 4 @ 1pm

Beverly Doll, Grant
Humankind. Be Both

Wed, June 10 @ 9am

Thurs, June 11 @ 1pm

Ruth Schriefer, Iowa
Communication with Responsibility

Wed, June 17 @ 9am

Thurs, June 18 @ 1pm

Pattie Carroll, Dodge and
Carol Bralich, Washington
What am I Good At? Helping children identify their strengths.